We offer a full range of services:
Quality Old Town and Alumacraft Canoes

One Person Sit-On-Top Old Town and Jackson Kayaks

Star 4-6 Person Rafts

Camping

Transportation

Access to Motels and Cabins

Groceries, Ice, Soda

Personal Floatation Devices

CAMPING
The campsites of Jadwin Canoe Rental can be reserved by contacting us. The National Park Service campsites are on a first come, first serve basis except for the group sites which can be reserved by contacting: www.recreation.gov or call 877-444-6777 (Ozark National Scenic Riverways). Make your reservations with the National Park Service as soon as you decide on a date for your trip. If you wish, you take your camping gear with you in the canoe and camp along the river on a gravel bar.
MOTELS AND CABINS
Salem has modern motels and fine restaurants. Also at Montauk State Park there are motels, cabins and a fine restaurant, and some of the best trout fishing in the Ozarks.

CANOE, KAYAK & RAFT CAPACITY
We furnish Old Town and Jackson Kayaks, Alumacraft and Old Town Canoes and Star Rafts. We also furnish paddles and personal flotation devices for each person in the canoe, kayak or raft.
Canoe capacity: Two adults and gear.

Kayak capacity: One person and one small cooler.

Raft capacity: Four to six people and no more than two coolers.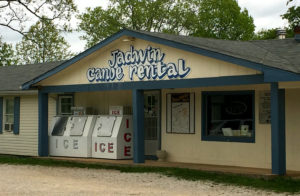 SUPPLIES
Groceries, ice, soda, charcoal, T-shirts, caps, visors, etc. are available at Jadwin Canoe Rental.
SAFETY
Lifejackets will be furnished for each person in the canoes, kayaks and rafts. Lifejackets should be worn at all times. Federal law requires all children 12 years old and under to wear a lifejacket.
Pick campsites well above river level. Flash flood warnings will be issued when possible.

Extinguish campfires before leaving; fire is the great peril here.

A lifeline or "trailer" should be attached to all tubes and air mattresses.

Know what to expect before launching. Talk to a park ranger about river conditions and hazards.

Carry first aid kits and matches in waterproof containers; protect billfolds and other valuables.

Stay out of caves until you check with a park ranger. The darkness inside conceals mud pools, dropoffs, and harmful fungi.

River and spring water may not be suitable for drinking. Play it safe, bring your own. During periods of heavy rain, the water level may rise rapidly. Campers should use extreme caution when selecting campsites. Unattended vehicles should be parked on high ground with all valuables locked in the trunk. Swim only in safe, calm water. Don't dive from cliffs or swing from trees as many injuries result each year from these two activities.
Rivers need clean, litter-free water to support life and recreation. Let's float and carry out what we bring in.